Originally posted by
matveychev_oleg at 15 reasons never to go on a raw food diet

All write about why it is necessary to go on a raw food diet. And I will write why not! :))))
1. If you decide on such a desperate step, you will begin to lose weight. Inevitable. Even sharply. Lose weight, extract the white light of the real me: slender, flexible, beautiful person. The people surrounding shock begin! Well, how so? Still around on diets sit, suffering. Not managed to lose weight immediately after the diet twice pounds gained! And on the raw food diet once and for all, and no more races for a slim figure! Disorder! And closet-how? So update will have! Yes, totally. If you know how to sew, you are lucky, will be able to adjust to the new figure of those things that become big. No? Well, then go ahead, get the stash, and for new clothing!

This seductive food eating Brazilian top model Ana Carolina Reston


Died in 25 years. So continue to lose weight and sew up holes!
2. If you suffer the folly of switching to a raw food diet – you get a lot of energy. The one you never had. Or was, but in his early childhood. But talk is useless, you still do not remember. And where are you all going to do? Will have to look for new employment, thinking how to kill time, exercise on a regular basis…. God forbid, entice, will be the sport champion! This is for the young, and at your age, undignified! I've recently bike rides on the dirt road, over bumps, and remember myself at 13 years old 🙂 Well, nothing has changed! As worn on a two-wheeled horse, no kid could not catch up and fly still) No, not getting older)), However, and do not age. Well, why do you need it? Horror…..
3. Securedata will stay and will love animals. At the same time and the whole world will love. And that with this love you want to do? The soul is sick, will watch movies like "Earthlings", to cry even…. Lived himself not grieve, do not wonder about such things, and now the activists, God forbid, served in the volunteers. The dolphins will start to save! There are kids in Africa have nothing to eat, and you about the cows on the farms chambers are baked! A disgrace!
4. If you suffer raw attack, you will never buy myself a mink coat. And generally any coat is not going to buy! 've dreamed half of my life, aside money, even a loan wanted to take…. And now Fig. "Religion" does not allow! This is what, consciously worsen your karma by increasing the suffering of animals? Karma you have one, and the skins of innocent victims of mink in the fur coat dozens…. No, it is unacceptable. But what about status, elitism? I wanted to be like everyone else, to glamorous and sexy — but no. Get your dream, and wear boots. Glamour is over!
5. When the raw food diet will eventually take over your brain – you suddenly want to get closer to nature. Well, of course, you will object, I have always been close to her, any beef that you ate… No, you do not understand, everything will be really bad! You want to live in nature! Your house, garden beds and garden. Of course, many of you wanted (and had) gardens – greenhouses, but now it will become vital! The city will have to strain, you will begin to choke there… Some will be difficult to get food! As well, there's a lot of shopping, and you have no food… If you have not gone to the family estate, now is your city the morning will begin with Cycling or Jogging in the woods. Why? So for food)) to Collect wild plants for green smoothies. And even with the trees hugging begin! Such things…
6. Maybe you happen to have the most severe form raw insanity. You will become not only more moral but also more enlightened! Well this is just tough! Previously, the word "Om" did not know, and now you will repeat it. Often I Oooommmm" :)) will buy Beads, and you will enjoy the process. But if this was limited… You will suffer in the Himalayas, to comprehend the great wisdom somewhere in the Ashram! You've got the habit of silence. Here once a week all day silent as a mouthful of water gained! And how to answer to calls on your cell phone? Neponyatnogo….. And family will begin to grumble, to wonder.. What is this you? I'm afraid to even further this idea, to develop, worry about you!
7. Oh, I forgot something…. You will stop aching! Well, actually, at all! Like this? Well, so was sweating in the draft, and not cold. Feet soaked – and do not care. At the bus stop freezing in the winter, the bus waited for half an hour! Before would have been lying with the fever, and now will not work. And how to complain, attention to polypragmaty neighbors? Now we have other ways to look to get attention! Here zhezh headache! By the way, the headache, too, will pass. Well, maybe not immediately, but you will forget about her. Well think about it! Because of the disease for many is much more than just an unpleasant physical sensation! It's a way of life and a psychological workshop. I have met people who seriously said, "yeah, I'm going to be well now, me doctor disability will be removed…. The allowance will cease to pay…. How to live it going to be?". I don't know what to tell you……
8. When you stop to break and forget his way back to ordinary life – will begin to distribute various unnecessary junk. Type pans, pressure cookers, fryers, stoves. The slow cooker you have not bought? Well, thank God! And that, too, will have to give the neighbors! Not a pity? After all, is acquired back-breaking labor! Especially "demented" to get rid of the kitchen. I mean, not on the kitchen furniture and from the functionality of the space. Kitchen becomes one room. Or that's how I have an office! Well, where does it go? As friends someone in the eyes will useless?
9. There was a terrible. You terribly want to see the world! No, not through the eyes of the guides on excursions at five-star hotels! Oh, you haven't been there yet? And will not be, guaranteed! Because raw virus walks hand in hand with the virus of downshifting (the word what a nightmare….), bekkestua and other things in the same spirit. Comes to the fact that will quit working in your favorite stuffy office, rent gang of migrant workers and…….forward to uncharted horizons! Free travelers, then. Ready? And with the kids? And cats loved from country to country? Know and such)) And happy after all to the extreme!
10. Decide to start to eat live food — get rid of depression. And even bad mood. Well, almost! I will say, it does not happen? But nowhere and no time to be depressed nesting in a truly healthy body! Start smiling for no reason and cause confusion among others. Be careful not to overdo it! Can accompany to the doctor… it is Not customary in polite society to smile all the time!
11. You love to sit in a pizzeria with a friend in day off with a Cup of coffee (or no coffee), gossip, secret to share? Daaaaa…. Can already see the dreamy expression! So, from now on, and this will be done! A tad cozy for kafesaki not sirojidinov! You can, of course, show up and demand some sort of fresh, but the buzz is not the same, you will agree! And gossip many hunting lost, by the way)))
12. The raw food diet is such an abnormal environment that does not celebrate the New Year with an Olivier salad and herring under a fur coat! Can you imagine? Here life was celebrated, and now – all. Finito. I'll tell you more, even with the tree do not celebrate, because live trees to cut is very very bad! This is also karma worsens. And the entire day of 31 December in cooking – cutting is carried out, as is customary, and go to the rink. Or on skis. Well, or fruit and vegetable base at the worst – at the holiday fruit in especially large size. And 1 January in the morning, while the whole country is asleep at the new year hangover — go for a festive run. So you will have to invent new traditions for the holidays. You can?
13. You do an incredible metamorphosis. You will be interested in the work. Different from the artistic workmanship of the stools, to writing books. Yeah…. There's already some on Amazon sold survived! And how many will need to learn new, there is so much pressure for the brain! I'm afraid that will not cope? And where do you go? Now you are a cultist and you have no choice)))
14. What else in your life will not? Well, old friends were missing… No, they won't die unexpectedly, do not worry. They just quietly evaporate from your life because of a severe conflicts of interest. This is not always, but it happens. But will check who is your real friend! Not ready to lose my friends? Then don't start zeroedit! Why is it you?
15. If, God forbid, do decide, you expect the main surprise. You will be happy. No, do not rejoice too much — it's not right will happen. First – crises, breakdowns and raw whole gentleman's set. But if you overcome the storms and storm – the happiness is located near you, more in you. Say, raw food is not the only recipe for finding happiness? Of course, not the only one. This is not a recipe. But it works, you know! So decide for yourself, you need it, this vain and troublesome thing, a raw food diet?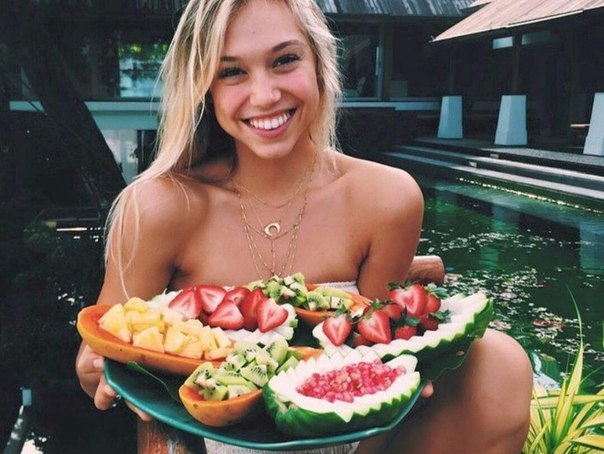 Seductive hottie is just the ideal of beauty of their looks this way:



About tasty and healthy food, read here->